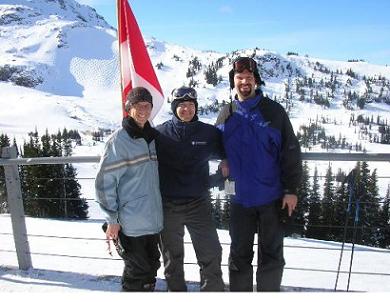 A Body of Power!
February 1, 2011

Travel has always been for me one of the greatest blessings in life. I am so very thankful for the opportunity, relationships and amazing experiences God has provided to me during my travels.
I have been recently reminded on several occasions about how God's love and family truly functions this side of heaven. I ventured to the mountains in Utah with my dear friends, Steve and Michael for our annual ski trip to a new destination. This year we began our journey by visiting with two of Michael's friends in Eden, Utah – Doug and Katie. I remember as I approached them outside their house for the very first time, that one word resonated within my heart and spirit – "peace".

During the days we spent skiing, and enjoying many other experiences we certainly acted as a family rather than a merging of strangers trying to peacefully co-habitate in the name of hospitality. Their love, generosity, openness and hospitality were of immense encouragement to me.
I am still in awe of how God continues to show me a picture of his love during our annual journeys. Last year, we were able to start our journey through the Rocky Mountains of Colorado by spending an evening with a family of Ecuadorians that I originally met during a mission trip in Ecuador in years prior.  They showered us with the same open-arms love that Doug and Katie showed us in Utah. Before I share the common thread between my stories, I want to be clear that this blessing does not only show its face during travel.

Recently, I have also been overwhelmed by a similar love as I went through the grieving process after a broken heart due to an unexpected end to a relationship that I believed could reach the marriage altar. During the span of a couple months, I had numerous people reach out to me in the midst of their busy lives to let me know they were praying fervently (not just once) for me, thinking of me, and that I was loved. So many different people reached out on specific days because of certain prayers I asked for. Those who did so left their fingerprints on my heart, and they know who they are.
So, I told you there was a shared connection between all of these stories that communicates the true purpose for this article. In all three cases, the common thread was that the children of God's family (those who have accepted Jesus Christ as their personal Lord and Savior, were baptized and received the gift of the Holy Spirit) came together to remind me of God's love for me through their love. They were able to do so easily and openly because of the faith we share in our great God: the God of true hope, joy, and peace (see Romans 15:13). I am eternally grateful for the true power that is seen each time I see God's family (the body of Christ) work together to create positive change in the world as a body of power. They are able to do so because of leading of God's Holy Spirit as He moves through our individual journeys we call life…
God bless,
Joe
* feel free to contact me personally with any questions or comments.