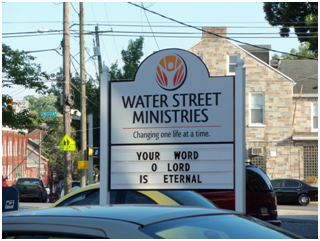 A Cultural Immersion in my Backyard
July 30, 2011

Why do we think that we need to travel to a far away land to serve others best?
I admit for the first twenty-six years of my life, I had no clue what missionary work or service projects were all about. Did I do a random community service effort or help with a fundraiser here and there as I grew up? Certainly. However, in the last five years or so, my heart has been drawn to serving others in need, no matter where the country was located, what was being asked of me in regards to service, or what the conditions were like in the land I was entering…

Though many of the short-term missionary trips I have done to date have been a massive blessing full of opportunities to love, grow, learn and serve, I have recently learned about serving in my backyard.
I have heard it said that you don't need to travel very far from home to encounter great need and people who deeply need love. However, if I'm honest, it became way too easy for me to go through the motions of daily living instead of getting involved in the needs of my local community.  Over the past few months, I've felt my heart deeply pulled to change my on-going service efforts, so I could serve those in greatest need in my local community. I heard of a cultural immersion project through C4, Calvary Church's young adult ministry, so I joined a small group of young adults that shared the same vision and passion to serve in our town.
My team of five spent five days living and serving at The Water Street Ministries in downtown Lancaster. It was an amazing experience to become a part of the family life there as we served, played, worshipped and prayed with the residents at Water Street. There were so many highlights, but I wanted to share some of the greatest moments in hopes that it might encourage you today!
We visited local parks and spent time talking and praying with people. We were able to get to know some of the woman from the mission better over mini golf and ice cream. Iraqi refugees opened their home to us and shared powerful, life changing stories while treating us to a meal from their homeland.
Right before they left the refugee camp and were granted safe passage to America, most of the Iraqi man's family was gunned down. They truly came here with nothing. I am embarrassed to admit that I really didn't have a proper understanding of refugees before. We learned of one of several great local refugee services, such as Cross World Service, that help restore lives and bring hope refugee families. We were also able to experience daily living and were truly immersed in different cultures during meals at Water Street and around the community. It was such a privilege to be a part of such buried treasures. My perspective has forever changed because I better understand the richness and beauty of the culture that is right in my backyard.

My team met a man named Carlton from Trinidad. We were talking with him and praying with him over dinner one night at the mission. When we were done, I tears of joy streamed down his face. He found himself, like many at Water Street, between a rock and a hard place, and was in great need of help.
During the week I wound up having several more moments with him. He was being attacked in so many ways, despite the fact that he continued to do all of the right things day to day. He was a man of such strong faith, and it was a blessing to meet a man who truly lived in a way that depicted "faith in action".
I am excited to continue our friendship as I encourage him to pursue his dreams. I would have wanted to be his friend no matter what setting I met him in; I truly believe we were meant to meet. I have already been fortunate enough to be able to be a part of helping him with some of the personal matters he is facing.
I enjoyed rubbing elbows with locals on the Farnum Park basketball courts. I couldn't have looked more out of place trying to defend some very skilled players. As it turns out, I held my own, and my team and I were able to relate to others casually and comfortably. We were able to connect with many of them in meaningful conversations.
One thing that struck me during my time at Water Street is that it isn't simply a soup kitchen that feeds criminals and addicts.  Sadly, many people within the community hold that view, and don't understand the wide range of ministries and programs offered.
I met so many people and heard so many stories. One resident was pursuing a PHD but faced brain surgery to remove a tumor. Others were laid off and lost their homes, but were only days away from being reunited to their families because of a new job they found through the programs at the mission. I met people that you would have never believed would be at a place like this. There were so many people who were in transitional points in their lives, and were all simply in the need of hope, love, healing and restoration.
The last night we were there, the leader of our team, Pete, led the chapel worship service. Not only was it a great night of worship, but it was a night where amazing breakthroughs happened. Awar veteran opened up and told stories that had gone untold for decades. Another man, who other residents said never spoke much, poured out his heart and spoke about his thankfulness for the restoration to his sons, and for his faith and love for his best friend, Jesus Christ! It was truly one God encounter after another that was overwhelming at times.
My team also built significant relationships with the youth at the Rock of Salvation cross-cultural church. Each morning we were able to do life with them. We got to know them at a deep level and we were able to have a lot of fun with them as we went through a process of helping them envision their future and the dreams that God had placed in their hearts. When we left, many of them were tearful. It's my team's desire to be able to go back and continue to invest into their lives.
Through its partnership with Water Street, Calvary Church continues to send teams of people who are willing to serve in a similar fashion. It will be exciting to see how these beautiful efforts in our local community continue to unfold. My greatest take-away from this experience was realizing that the stories of others can change your life story forever. For me, I truly feel that I have a new passion to live differently within my local community. God used my week at Water Street i to shift my thinking, renew my mind and alter my life path forever. For that I am eternally thankful.
So what can you do   today to make a real difference in the lives of those who are in great need, right in your backyard?
God bless,
Joe
* feel free to contact me personally with any questions or comments.