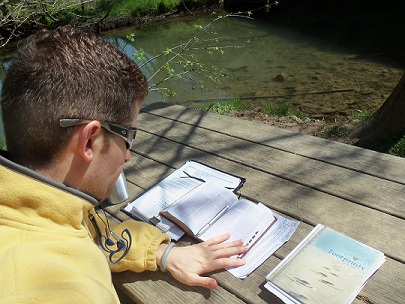 A Day with God
April 7, 2012

Did you ever spend an entire day with God? Recently, I challenged myself to do just that, and was truly blessed.
In the past year or so, I have wrestled with the question of how one connects more deeply with God. I believe the answer is found in taking ourselves to a place where we experience our need for Him more. I don't believe there is one way to go about doing so, but for me I have found that intentionally sacrificing time (example: a work day during the middle of the week when there is great need for you to be working), hiking outside in His creation, fasting, reading, prayer walks, praying, meditating, and journaling have all been great approaches to better posture myself to hear His still small voice.
A Link Between: Sufferings, Perseverance, Character and Hope
During a recent day that I dedicated to spending with the Lord, learned a lot about who He is, and who I am. What was initially a way to take the things that were heaviest on my heart to God every few months has now become a passion. I now try to fit these days in more often. I have found so much fruit in the process. I believe we all invest everything we have (time, money, energy, etc.) in the things that seem the most beneficial in life. For me, this day that was focused on being with God was just that for me – priceless.
As I reflect on Romans 5:15, I find an interesting link between our greatest sufferings in life, perseverance, character formation and hope. When we are hurting the most, in the greatest need or most confused, I truly believe it is an opportunity to encounter fellowship with God in a dynamic and beautiful way. If we draw near to Him, He will draw near to us. I am confident to fully experience the life He desires for us, we desperately need to be in deep connection with God. The evil one is always on the prowl, looking to kill like a murderer and steal like a thief.
Peace and Hope
"1 Therefore, since we have been justified through faith, we[a] have peace with God through our Lord Jesus Christ, 2 through whom we have gained access by faith into this grace in which we now stand. And we[b] boast in the hope of the glory of God. 3 Not only so, but we[c] also glory in our sufferings, because we know that suffering produces perseverance; 4 perseverance, character; and character, hope. 5 And hope does not put us to shame, because God's love has been poured out into our hearts through the Holy Spirit, who has been given to us (Romans 5:1-5)."
Insights from (John Chapter 15 to 21)
In closing, I want to leave you with some of the best insights I felt that I gleaned during my day with God. May it encourage you this day!
Remain in Jesus. I cannot produce fruit apart from Him.
By obeying His commandments, I remain in God's love.
Love each other as God has loved us.
We are Jesus' friends and He chose us to produce lasting fruit.
The world hates me because God chose me to come out of it.
Jesus had to go for the Holy Spirit to come.
The Spirit communicates what comes from Jesus.
He reminds us we will have many trials and sorrows, but he has overcome the world.
Jesus prayed for

all

who would believe before He gave himself up.
He desires unity for His family (the body of Christ).
Jesus understood his mission and embraced all of it (even suffering).
Even Peter denied Christ multiple times despite his vow not to.
If I truly love truth, I would trust what God says in His word as being true.
Blessed are those who believe without seeing Jesus.
Jesus has done much more than contained in Scripture, and it requires faith in Him to learn, grow and be shaped into His likeness.
So, when was the last time you dedicated a day to spend it with God? When do you think you might do it next?
God bless,
Joe
*I help my coaching clients focus on important life lessons like these so they can achieve better balance both personally and professionally. If you'd like to find out more about my life coaching company, Live With Purpose Coaching, feel free to contact me at (717) 283-2377.