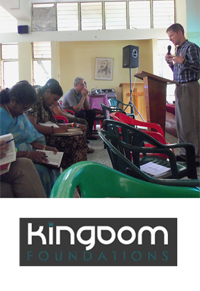 A Trip of a Lifetime to India
June 30, 2013

Recently, I made my first trip to the country of India. It was truly a trip of a lifetime!
I have traveled all around the world and have been on some amazing adventures. However, this one was one of spiritual, personal and professional magnitude well beyond anything I could have hoped for. I pray my highlights are an encouragement to you as you consider your travel goals and dreams in life.
I was able to gain greater experience on Dream Interpretation through Kristi Graner of Dare to Believe. Her ministry was inspired by John Paul Jack's organization – Streams Ministries. I was also able to grow in my experience with SOZO (Inner Healing / Deliverance) ministry. You can find out more at: http://bethelsozo.com/.

I joined the team as a speaker/coach to help people identify their Heaven Bound Legacy and learn how to break the poverty mindset, so that they can walk in true peace and freedom into their God-appointed destiny. It was such a joy to personally coach 25 people and speak to many more. The people in Bangalore, India were spiritually hungry, full of life, love, respect and honor!
My Trip Journal

June 16 – I got to JFK Airport in NYC and after hitting over an hour of unexpected traffic, I ran the risk of actually missing my flight. I was wearing my Cameroon national soccer jersey, since it was of sentimental value from my time in Mozambique, Africa, where I first began my relationship with Kingdom Foundations, the organization hosting me in India. God used it for more than that. I got to check-in and was told I missed my flight. Then the supervisor started staring at my chest and said she hadn't seen her home country (Cameroon) in many years, and then proceeded to override her system protocol to get me on the plane. She said that jersey saved my life. Not only did I make the flight, but I was upgraded to premium class for free! Oh the favor and glory of God!
June 18 – We had our orientation and I met my roommate from Arkansas, Derick, a person of deep character who later invited me to revisit India to work with Kingdom Foundations in the future. I couldn't have had a better roommate. This day I first met Ravi Kandal from the documentary-like film, Father of Lights. I had my first introduction to our SOZO programs (inner healing ministry). We also visited Ravi's Kingdom Foundations office, where we met  rescued widows who were making jewelry as a part of a new and glorious ministry called "Infuse." If you want to host a jewelry party to bless these wonderful widows, please contact them!
June 19 – After a 2.5 hour drive to Hindu villages that were the epicenter of the inception of the Hindu holy book, we shared our testimonies and the gospel to families in their homes. Ravi also prayed with the village leader, who 20 years  prior nearly beat him to death! We were gratified to learn the man has since been transformed. Here, I had my first meal with a leaf serving as a plate!
June 20 – I gave my first speaking presentation to the Bangalore Conference: "Cultivating a Kingdom Wealth Mindset" – I sat in on Dream Interpretation training from Kristi with Dare to Believe, a tributary ministry inspired by John Paul Jackson of Streams Ministries.
June 21 – I began my business/life coaching sessions with attendees at the conference, personally coaching 25 individuals total. I also had the opportunity to give my 2nd presentation: "Pursuing Your Dreams through God's Eyes".
June 22 – My 35th birthday. This was the 2nd year in a row I was abroad for my birthday, though Ravi told me I'll be back in the USA for years to come to celebrate my birthday! I made some wonderful relationships through coaching and believe several relationships will continue.
June 23 – I was asked to preach at Ravi's church for the 1st service and was given only a few hours before bed to prepare, but God is good! It was translated well and we had a great time of fellowship. We then had a great uniquely Indian buffet meal before returning to  Ravi's house to enjoy some quality time. Being able to get to know Ravi on a more personal level was a superb privilege.
June 24 – I sat in on my first two SOZO sessions as a "2nd chair" minister. It was neat to see breakthroughs in people's lives and learn more about this healing ministry.
June 25 – I spent half of the day with one of Ravi's friends who attended the conference named Ron. We talked about his vision for an exciting project called 'Thousand Dreams.' I could see us working together as time continues and our visions align. He was someone I was honored to have met during my trip, and had three opportunities to interact deeply with him. I coached the remainder of the day.
June 26 – If was funny that this morning I realized I was staying one more day than I thought! I received SOZO myself in the morning and it was wonderful! It was good to cry and to walk out more freely and peacefully than ever before! We then did some shopping as a team and went to the movies. India has movies that blow away the USA, surprisingly. They have VIP seating where you can sit on self-controlled recliner chairs in the best seats in the house. Not only that, they have scheduled intermissions and the staff serve you meals while you watch! Afterward, I did coaching sessions until I passed out at midnight.
June 27 – Ron was so kind to pick me up after one last coaching session, and then take me to the airport. We had some more quality time and he was able to speak words of wisdom and encouragement over my dreams of marriage. I was then able to get a massage in the airport during my nine hour layover in New Delhi. It was all an epic adventure of a lifetime though my highlights here truly don't do it full justice.

I met the COO of Kingdom Foundations, Jackie Koller, during my trip to Mozambique, Africa in November of 2012. She is an amazing woman of God who really inspires me to grow spiritually. We had an amazing trip together. I was truly blessed to be invited to be a part of this team in India. I was reunited with several others from our group in Africa, actually. I was then able to not only meet, but spend a lot of quality time with well known prophet, Ravi Kandal, who was featured in the documentary: Father of Lights.
Ravi is very humble as he shares the prophetic revelation he receives from God daily. You can watch his genuine concern to not say things that the Lord hasn't given for him to share, so the person can receive the word and truly walk by faith with God from there, not having all of the details upfront. It was amazing to not only receive many words personally, but to see them spoken over others as you could see God touch people's hearts in a personal way.
I returned to the US with much prophetic revelation to process, an open invite to create something to revolutionize business in India and return in November of 2013. I believe this was the first of several trips to India as time continues. If you are willing to not need full understanding in life and to step out in faith and continue to trust the leading of God's Holy Spirit in your life, the life of a follower of Christ can be an epic journey. I look forward to continuing to update you all as my travels continue. It is a passion of mine to inspire the world to dream, to seek a deep relationship with God and to challenge people to live a life that is focused on constant personal transformation/growth.
So, what country do you still dream of traveling to? What is holding you back from stepping out in faith? You only live once. The dreams within you were placed there from the Creator of the world. Your dreams are unique. You are the only one uniquely qualified to take action on them. He wants you partner with Him by first believing in them, and then asking for Him to help you to take action on them. I would be glad to process your specific travel dream with you if you want to share it with us!
I help my coaching clients focus on matters like these so they can see their business become more efficient, profitable and scalable, if desired. I also help them achieve better balance professionally and personally so they can see their business truly work to support their life purpose and vision. If you want to find out more about how this could be leveraged in your world, or if you want to discuss a business or career problem you are facing, feel free to contact me or call us at 717-283-2377. You are also welcome to share this article or other resources found on my blog (www.livewithpurposecoaching.com). Feel free to contact me if you or an associate would like to join my blog or receive this article as a PDF.