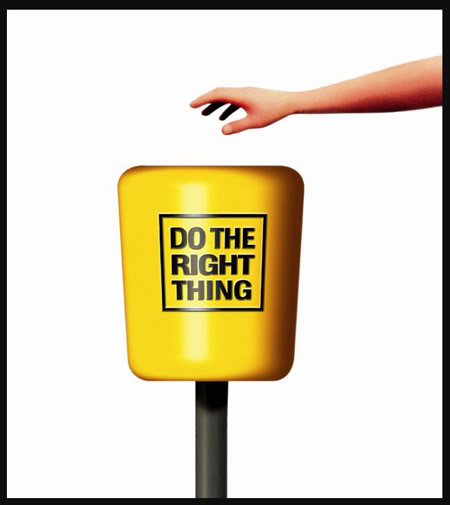 Do the Right Thing, Come What May…
December 10, 2010

Unfortunately the holidays nowadays seem to bring for many of us more emotions than the peace, joy and happiness that is meant to be enjoyed. For many, they tend to bring feelings of anxiety, fear, frustration, and anger to surface.
Perhaps it is because of the fact that our society today is spinning out of control as it is driven by the technology revolution that has for many created an inflated focus on materialism.
In a practical sense, you could be going through some really tough stuff right now, and I don't want to slight you if that is a true statement. Perhaps you are unemployed or your business is struggling and it is affecting your family. Perhaps your marriage is on the rocks or you are faced with healing from a broken heart. Maybe you or your family has many illnesses they are battling or you are just feeling weighed down by the pace and pressures of the holidays in today's post-modern culture.
Let's be honest, life is tough. God never promised that our life would be smooth sailing. However, we can find a real remedy to our struggles in life, and this post is focused on sharing that with you. Many times, when we are going through seasons of difficulty we see our emotions drive our response. I for one can say that normally has been my default if I look back over my past. That is something many people would share in common with me. However, over the past few years and during this holiday season specifically, I have been able to realize much of what God has taught me, and what the true remedy is to a life full of accelerating pressures and emotions.
Simply put, you need to do the right thing, come what may. What that means for each situation in life could be different. You could also easily raise opposition and state things like, well who's standard of right are we going to use? Great question! You can freely choose your own standard, but for me I'm going with God. Let me give you a personal example from my life right now.
Without getting into the nitty gritty, it is safe to say that the last two months or so of life have been days where the heat on the kitchen was turned way up to a scorching temperature. I have felt the heat and at times it hurt, but it has been enlightening to see how God has helped me to weather the storm. During this season, I was faced with difficult family circumstances, notable business challenges of multiple levels, unexpected staffing issues, and a broken heart. This was on top of all of the other fast-paced expectations that the world around us puts on us at this time of the year it seems.
So faced with all of that what was my "do the right thing" solution?
Well first of all, I needed to lean on God, not my own understanding. I needed to ask for him to help me grow in faith through these storms. I was able to do that by focusing on thanking him daily for so many blessings that were still evident in my life, and for so many past storms he saw me through over the years. He is a God that is unchangeable and unshakable. He is a fortress of strength in our times of trouble. He loves for us to come to him like a young child lost in a department store that desperately seeks out their parents in a panic only to find them moments later and be wrapped in their loving arms.
Furthermore, he helped me to again realize that much of what happens to us in life we can't control. We can only control our response. Tough medicine to swallow at times; for the self-starting, born leaders with an A-type personality like myself.
My response during the business challenges was to believe, that if I focused on protecting my personal confidence each day I would do the right thing daily. I focused on reading God's word, praying and meditating. I realized God was in the midst of doing something in my life through this and it became very exciting to pursue him and wait for his revelation for my obedience.
I focused on serving each person in business I spoke to with passion and vigor to the best of my ability. I focused on quality and creativity more than how much I could do each day hysterically. If you walk forward with the right attitude and behave each day in the right way, you are doing all you can.
I focused on praying for others and to look daily for people I could reach out to in an outward focused way. Many times if we focus on caring for others, it helps us remarkably manage any personal burdens we carry.
I focused on giving more of my resources than I ever had in my past to the benefit of others and for God's glory. Through it God gave me the blessing of a heart full of joy, hope, love and thankfulness.
As for the broken heart, well it is still there. I know much of my response to our difficulties was of Godly purpose and I look at it without regret, because saying the tough things in life many times are never easy to say because others might not receive it as you hope. That doesn't change the need for them to be said though.
I focused and continue to focus on believing in the God of all hope. One who loves us deeply, and desires us to be in reconciled vs. broken relationships with others. He is the God of second chances and beyond. I know that my ex-girlfriend needs space so God can show her what he is trying to reveal to her right now. I need to continue to focus on my faith in God, and my desire to see God's blessing over her life that she might feel my love for her through is work, and one day share in my sentiment of reconciled relationship.
In my case, yet again God brought forth blessing in abundance after these storms came and I was left to bask in the beautiful rain that he brought my way. My business has gone from slow to busy. We have also seen our perspective change towards some of the unexpected changes so we can see them now through the lens of hope, optimism and opportunity of what God is setting up for our team through new addition for 2011! I have a renewed sense of determination, drive and passion through this all, and I have God to thank for that through the refinement of these trials. As for my broken heart, though it might be my least favorite of my doing the right thing responses, I know it is of God for me to lean on him and put all my chips down on his ability to better help us reach reconciliation, emotional healing and/or restoration in due time than anything I could ever muster with a willing heart. He is doing something right now and is not asleep at the wheel. I don't know what will happen next, because it requires her response. That doesn't change anything God is doing. Perhaps he has work to do in both of our lives as he prepares us for futures apart romantically and of renewed friendship. Only He knows. I remain excited to see what he reveals in time for us both in terms of 2nd chance romantic, restoration or as individuals that treat each other with love and compassion if nothing else. God doesn't make mistakes. Our meeting wasn't one and the next steps of our life together or apart I am sure will not be either. So my focus remains on doing the right and trusting the results in all areas to God. Come what may. My focus remains on what brought us together in the first place. It is a focus on honoring all women in my life (not just romantic interests) by building relationship with them and offering the best of myself through openness, honesty, transparency and vulnerability as I seek to passionately, pour into their lives.
Ironically, I bought a movie this year that I highly recommend that has a great story and is titled: Come What May – http://www.comewhatmaythemovie.com/ . It takes the concept I am sharing and brings it out in a beautiful way cinematically. Now, I am not going to tell you that this solution to life's worries is like drinking some magic potion. We are still human beings, and emotional creatures (regardless of how emotional you are). I am simply stating, that no matter what you are facing in life, if you focus on doing the little things everything (the right things), you will bring God glory, and position yourself to have the opportunity for the most beautiful responses responsible. Take your focus off your problems friend, and focus on being a part of a solution for other people's problems. Stop for a moment to encourage another person in a busy day. Do an unexpected gesture for them. Spend more time with God. Pray more. Love more. Hope more. Life is too short not too no matter what you are facing!
For more supporting scriptural reference see:
God bless,
Joe
* feel free to contact me personally with any questions or comments.