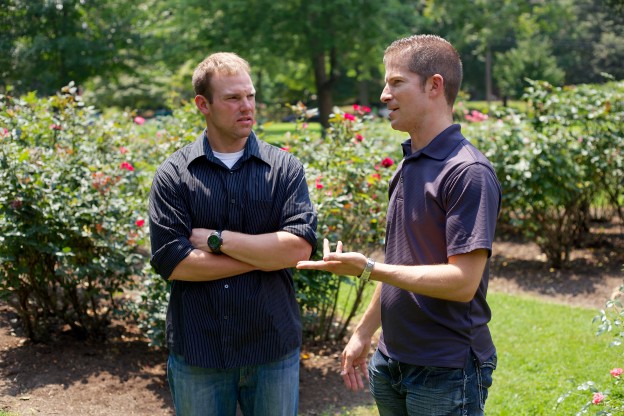 Exploring the Legalism-Hyper-grace Spectrum- Part 1
March 19, 2014

We've all probably heard of both extremes of this spectrum in the Church. Hyper-grace has been identified by many of the Church's watch dogs as a theology which focuses too much on grace and dismisses things like discipline, transformation and repentance. Legalism, likewise, is often seen as a traditionalist, ultra-conservative view that seemingly points more frequently to Old Covenant theology and assuages the redemptive work of Jesus.
Perhaps the key in this is finding moderation between the extremes and exposing falsehoods put out by either side, while even debunking myths that masquerade as extreme, but contain biblical truths.
While exploring the Legalism to Hyper-grace spectrum , it's important to note that finding moderation between the extremes is in no way hiding or finding the politically correct ground; this isn't a centrist view, in fact, it's far from it, this is seeking out and finding the truth between the extremes. In the same manner, we must not abandon boldness in our search for moderation. In other words, moderation, in this case, is not non-confrontational, it's bold.

Debunking a couple misconceptions about Hyper-grace…

Love Conquers All
In our culture especially, 'Love' is so many times misinterpreted and in effect, defined irresponsibly. Love is not synonymous with tolerance, nor does it equate to pleasure or any fleeting physical feeling or emotion. To me, love is essentially represented best by its source: God. In fact, 1st John 4 says that "God is Love." Those three words can really transform how you go about defining love and distributing it.
Overuse of 'love' in hyper-grace rhetoric has led to many critics who demand responsibility and judgment for those going about ignorantly using 'love' as a tool to perpetually sin without considering ramification or being convicted or corrected by it. But love does, in fact, conquer all. Love predates and presides over such things as the gifts of the Spirit (1st Corinthians 13) and covers a multitude of sins (1st Peter 4:8). A multitude means a lot, in case you didn't know. And, since we know that we are more than conquerors because of His love for us (Romans 8:37), we need not hassle with authenticating His love in other people. It's simply not our responsibility. We've all been bought at a very costly price and thus have zero ground with which to challenge love.
Everyone has redeemable value
People's destinies, in the Kingdom of Heaven, were spoken before the earth was formed. Everyone was destined to know and love God and that truth is still in effect today, regardless of what you see around you. This is NOT a hyper-grace idea. Although proponents of Calvinism would disagree, Ephesians 1 clears the air:
"For he chose us in him before the creation of the world to be holy and blameless in his sight. In love he predestined us for adoption to sonship through Jesus Christ, in accordance with his pleasure and will." (Ephesians 1:4-5)
Redemption, reconciliation and rebirth are Gospel themes, not hyper-grace notions. Let's not confuse our neighbor's value with anything short of what transpired on the cross, lest we assume wisdom over God and his redemptive power.
"This is good, and pleases God our Savior, who wants all people to be saved and to come to a knowledge of the truth." (1st Timothy 2:3-4)
~In Part 2 of this Blog Series, we'll likewise expose some of the biblical truths that are too often passed off as legalism.
-By Joe D'Orsie – Communications and Spiritual Life Counsel – Live With Purpose Coaching