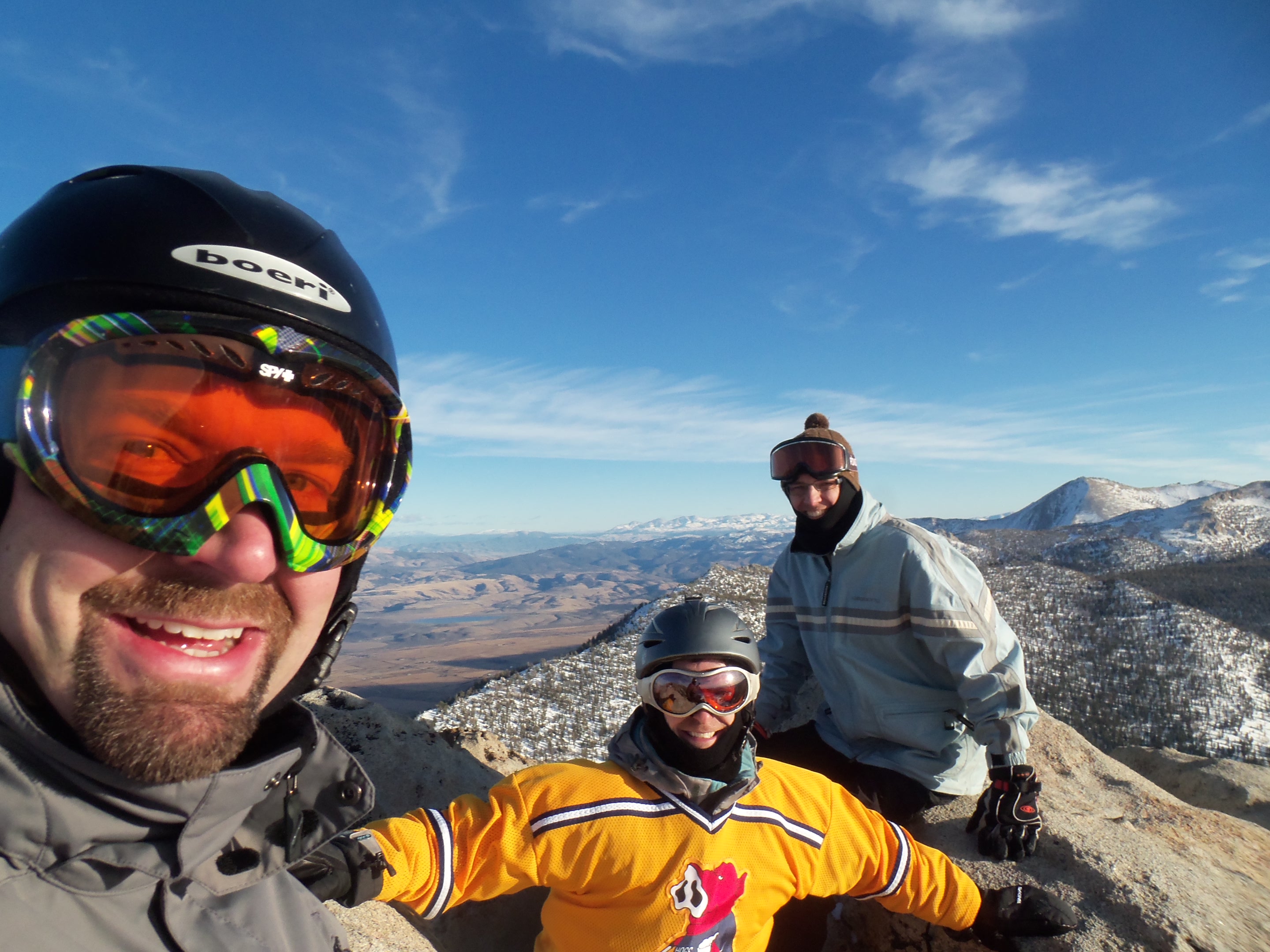 A Spiritual Sojourn in Lake Tahoe, CA
February 6, 2012

This year's annual ski trip out west didn't disappoint. It also ended up being a truly spiritual sojourn into the beautiful region of Lake Tahoe, CA
I think for many men who get participate in various trips, be they skiing, golf, fishing, camping or something else, many times stay focused on the superficial in life as the conversations flow. Thankfully, I have yet again been blessed to experience the exact opposite of this as I journeyed out to CA with my good friends Steve and Michael.
The snow conditions might not have been ideal, but the trip couldn't have gone any better by my estimates. God used each of us to speak into our lives.
Highlights from Heavenly, CA
The weather was great. We had so many reminders of God's awesome power through His creation that it left us in awe of how masterfully He designed this great world. He has given us a playground to enjoy. God is so good! I continued my first year of snowboarding, learning my hard yards for the first time on a bigger mountain. The hills back in PA are more like bumps in comparison!
Mike, Steve and I continued our annual tradition of reading a book together during our trip. It is a great way for us to talk about things that truly matter and launch into very engaging discussions. This year we were reading The Resolution for Men. There is a great book for women as well.
There was also beauty in our men's retreat because of our focus on serving one another. Any retreat that can focus each person's heart on "serving one another" is such a great idea! It is healthy for singles or married folk when done so in good company. It helps them encourage one another spiritually and keeps them accountable to living for God's best in their lives. Each person can then come home with much more than great memories, experiences and rejuvenation from their travel adventure. Having such a sojourn in your life (and even more so for leaders/business owners) is SO needed. Every one of us needs to intentionally take opportunities to completely disconnect from the worlds we know locally. I truly believe it is nourishment for one's mind, body and soul.
During part of our trip, we were able to enter some of the casinos in Reno, Nevada. It was like walking into a movie set for one of the Back to the Future movies. The town is still lost in the feel of the 60's and 70's. There was so much darkness and oppression that I felt as I walked into the casinos. So many lives that were striving to find contentment in earning some big pay day. Many others that were trying to right all their wrongs by one last win that would change the tide. My heart broke for so many people.
One good aspect about our time out around Lake Tahoe and Reno was that we were able to interact with locals that we would have never met in our normal daily lives. I met a special guy who was our chef at a local Fire and Ice restaurant named Paul. We were able to have significant conversations about God and things that truly mattered in his life. It was a special memory. However, I met another woman who was serving bread to all of the guests at a restaurant we were at in one of the casinos. Something didn't feel right. I felt strongly like she was in some trouble and her heart was heavy. I felt like God wanted me to talk to her. My mind told me all the reasons why reaching out to a stranger would come across as weird, and I am sad to tell you that I gave into that weak way of thinking. When we have an opportunity to let someone (even a stranger) know that they matter, and that you are genuinely concerned for their well being, we should have only one response: to answer the call. I can only now focus on trying to do so in future opportunities with other people and pray she is ok. We shouldn't waste these opportunities from God.
The Beautiful Balance Between Love and Truth
This trip was one that displayed the principal of iron sharpening iron that Scripture talks about. It was a trip that was full of being challenged and stretched as men, growing spiritually, and maintaining God's full view of our lives as we walked forward with Him. For many churchgoers today, I believe there is a battle in the family of God in regards to how much to focus on love and truth.
Love would be the picture of how God views us as His dearly loved children, instead of focusing on how we fall short of God's standard, fall into sin, or focus solely on what we are doing wrong until we believe we are worthy of receiving God's forgiveness again. I agree with my friend, Steve, that we should focus much more as the body of Christ on how much God loves us and put it on display. We should protect and encourage one another to see ourselves as God sees us because He sees us through the precious blood of Jesus. Those who believe have accepted Him as their personal Lord and Savior. I left the trip with a reminder from the Holy Spirit, yet again, to see myself how God sees me.
We have a passionate call from within many that desires us to cry and speak truth into our own lives and the world around us. I am speaking about truth that is based upon the absolute truth claims and standard of God that are laid out in the Holy Scriptures. I find many times we can be drawn towards telling people about how much God loves each of us, while overlooking His holiness and how our sin breaks His heart. The reality is that He is a God of love, truth, and justice. He is a God that desires our confession and repentance so we can turn back to Him and embrace His unconditional love and forgiveness. We can hold on to the truth of His love and know Jesus is cheering us on.
James McDonald of Walk in the Word says it best: "All love and no truth is hypocrisy. All truth and no love is brutality. The power is in the balance – truth and love together is unity and that's what we're going after in the body of Christ." May this challenge us all to understand, receive and live out of the beautiful balance found between God's love and His amazing truth and grace.
Our trip ended with a journey to the well-known Bethel Church in Reading, CA. After a few opportunities to visit for some passionate praise and worship, we received some prophetic words from folks that we randomly met.  What they spoke into my life not knowing me at all was amazingly accurate. They reminded me that God is far bigger than we make Him out to be in our finite minds. He wants us to want to know MORE of Him! Until Steve, Mike and I journey out again next year, Lord willing, I will be left with all of these great reminders to reflect on. My question for you is this, friend: where should you go next? With whom should you go who will make the your retreat not just relaxing, but challenging as well?
God bless,Joe
*I help my coaching clients focus on important life lessons like these so they can achieve better balance both personally and professionally. If you'd like to find out more about my life coaching company, Live With Purpose Coaching, feel free to contact me at (717)283-2377. Visit www.livewithpurposecoaching.com for more resources.