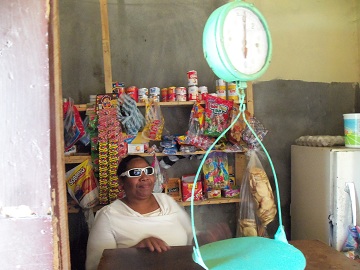 Turning Trash into Dreams & Treasure on a Global Basis
March 2, 2012

Recently, I was in the Dominican Republic on a HOPE International Dream Trip. The people I met amazed me; they were literally turning trash into dreams and treasure on a global basis.
HOPE International is the non-profit, micro-financing organization that I partner with through my book, Running Down Your Dreams. 10% of proceeds from the book go to fuel the dreams of the poor globally. I was able to see their organization in action with one of their partner organizations, Esperanza International. I was blessed to meet many people whose dreams touched my heart. Their faith in God and their courage to pursue their dreams with a humble heart and limited means was inspirational.

The lady photographed above is Juanna. Because of HOPE International and Esperanza, she moved her business from a small shack to an extended storefront. She used a loan to purchase a freezer for community sales and use, and was able to pay it back. Things we Americans take for granted completely changed her com

munity in a powerful way. It showed me that each person who donates to HOPE really makes a difference! Juanna still concerns and prayers for the health and well being of her family. She has 4 children aged 10, 12, 15 and 16.
I met all sorts of entrepreneurs who were partnered with HOPE in the Dominican Republic. Their businesses were varied, selling clothing, salted nuts, gasoline for mopeds, beans and rice, seasonings, shampoo, undergarments, bed sheets, fried foods, bread, and pork products, just to name a few.  There were a few who operated small grocery stores and even a hair salon service. Each community group that pools resources together for the HOPE savings clubs and loan programs comes up with a name. We met one group whose name resonated with my own passions and dreams called "The Dreamers with a Purpose."
To put it into perspective how small the loan amounts were and why your donation to HOPE can make a difference right away, I should share that the average loans were 2,000-8,000 pesos, or $50-225 USD. We met entrepreneurs with dreams who were on loan #1 (the smallest) all the way up to #12+ (much larger) after 5-6 years working with HOPE and Esperanza. Their biggest dreams were for the ability to build their own home, provide for their family, send their kids to school and the more of life's essentials. Their aspirations and dreams convicted me: they seemed more pure than typical  American dreams in many ways.
I had some idea of what HOPE does since I have been involved with them for a few years. I did, however, learn much more about what micro-financing organizations are doing by involving myself in this trip. Micro-financing institutions are empowering much more than capital through loans for the entrepreneurial dreams of the poor globally. These organizations are pooling together resources to offer the dreamers in developing nations group cell phone programs, micro-insurance, life skills education, micro-pharmacies, micro-schools and beyond as a fractional part of the loan amounts that each person pays back.
HOPE also has amazing savings clubs that allow people to contribute as low as 10 cents per week as a group, so they can pull together and not only save money in a secure way, but can be in position to have an auction system of sorts that allows each person with the greatest need to leverage the group's weekly savings amount to meet their family and business needs. Many countries have banks that have such high initial deposit amounts that needy people will never be able to open an account on their own. So then, what do you do? Bury it in the ground and hope a flood doesn't destroy it or hope someone else doesn't steal it from his or her primitive living hut? Until groups like HOPE came into the picture, they had no option. Literally! Having no legitimate options was their reality. That's something developed nations like America have a hard time understanding. Here, even those who struggle financially can open a basic savings account fairly easily. If you are interested in learning about the simple but innovative concepts that are changing the lives of the poor on a global as they pursue their dreams, I'd recommend you read The Poor Will Be Glad by Peter Greer and Phil Smith.
Turning Trash into Treasure
If Ana Dalia Febles lacked anything, it was never talent. When the 53-year-old found Esperanza International, HOPE's partner in the Dominican Republic, six years ago, she was already a skilled seamstress. She was also a single mother of three who knew she could do more to provide for her children if she had additional capital to invest in her business. When she began receiving small loans and basic business training from Esperanza, however, Ana wasn't content to simply grow her existing business; she wanted to fill additional needs in her community by investing in some of the other skills God had given her. In the past six years, this consummate entrepreneur began three additional businesses, honing her skills as a manufacturer of shampoo and cleaning products, a restaurateur, and an artisan.
Though Ana only received a middle school education, she masterfully runs her businesses. Ana is particularly excited about her most recent endeavor: "I use the plastic that people usually throw away as trash to make beautiful purses," she enthuses. She hopes to become well known for her craft and to eventually begin selling the bags to tourists, who will take her products home and expand her influence. My group not only bought most of the purses she had, but also began discussing bulk orders to take back to America. I am confident that HOPE will help that dream become a reality!
Note: Content referenced in this segment from HOPE's Passport (Issue 1, 2012).

I met another woman named Rena who captured all of our hearts the moment we met her.
She runs a small grocery store (colmado) out of her home and advertises through word of mouth. She's been blind for 24 years (she's 41 now) after having a substance blown in  her eyes when she was younger.
When asked why she started a grocery store, she said, "If I let my blindness limit me, I couldn't do anything." In the afternoons her niece helps with sales, and in the morning she does it on her own. Typically, she'll pick up the exact amount that someone needs and not much measurement is necessary. She attributes her success to God.
Rena went to church when she was young and March 31st marks 15 years of having a personal relationship with Christ. She prayed that she wouldn't be a burden to her family, and noted that, "He (God) has answered my prayer. " She wants to prepare for her own future with the work she did when she was younger. She prayed not to be a burden with her disability, since she wouldn't have government help for her disability. God answered her prayer and she now cares and provides for many. God uses her to be a blessing throughout her region, for His glory! She's a staple in her community; she makes time to both sit and to walk with people, and she provides for those in need.
She got loans from 5,000-20,000 pesos through HOPE. She has an individual loan, and people with stronger payment history like her can graduate from group-model micro-financing loans. Her dream is to continue to grow and move forward and to support her extended family and to become successful. Though she couldn't go to school, she's taken in 4 nieces and nephews and put them through school. She wants them to make something of themselves and contribute to society.
Rena's story really spoke to me. She has a condition many would find debilitating, but does not feel limited. Rena does not want to stop, but to continue growing. She is full of dreams and drive. She shows character through her commitment to help her extended family, and her faith and humbleness by caring for those in greatest need. She gives God the credit for her success through this all, when it would be easy to attribute it to her hard work and moxie. God loves to use people like her! The Bible speaks to that fact. God takes great joy in using those who make it most easy for others to see Him through their lives.
So what part do you think you play in God's eyes by personally helping fuel the dreams of the poor globally? I'd love to personally encourage you and hear your answer.
God Bless,
Joe
*I help my coaching clients focus on important life lessons like these so they can achieve better balance both personally and professionally. If you'd like to find out more about my life coaching company, Live With Purpose Coaching, feel free to contact me at (717) 283-2377. Visit www.livewithpurposecoaching.com for more resources.